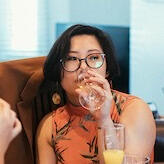 Samantha Cheh
---
writer | editor | educator
About
Samantha Cheh is a writer and editor of big and and small things, and works full-time in education.

She is currently making forays into fiction with some success (it's going pretty great, actually), and writes a somewhat-irregular newsletter.

In a previous life, she was a journalist with Tech Wire Asia where she covered technology and business, with a smattering of social issues. She has also freelanced with a number of publications on a range of topics, producing arts and cultural criticism, commentary on social issues, as well as reportage on Malaysia. Her work has appeared in South China Morning Post, Tech in Asia, e27, Salaam Gateway, New Naratif, Art Republik Singapore, and others.

Leveraging off her journalism background, Samantha also produces content for brands and publications, and provides copywriting and copyediting services.
Find out more about her work here 👇
Selected Works
You'll find a selection of works from my portfolio here, including fiction, journalism, content and copywriting for both brands and art galleries.
If you are interested in working together please get in touch through the information in the Contact page.
Non-Fiction
My non-fiction work includes journalism, personal essays, and criticism.
---
Journalism
Since 2017, I have worked both full-time and freelance with a number of publications. My work has covered the intersections of technology and business, as well social issues, arts and culture.
Please click through for a selection of journalism.
---
Essays & Criticism
"Life Through the Lens: On 'Bayangnya Itu Timbul Tenggelam' at ILHAM Gallery" (Plural Art Mag, Sept 2020)
"My Favorite Pillow Is Old, Tattered, and Smelly, and I'll Never Replace It" (Apartment Therapy, August 2020)
"Letters from KL: Inside is forever" (Plural Art Mag, April 2020)
"four stories of friendship" (BEAUTART 2019)
The Undeniable Power of Dato Seri Vida, Malaysia's Most Eligible Bachelorette (December 2017, VICE Indonesia)
---
"Concrete Therapy" (Critics republic, April 2017)
A review of Remedy, dir. by Jeremy Ooi (March 2017, DPAC).
---
Playstosee.com
Between 2015 and 2016, I was a regular contributor to Playstosee.com, a London-based platform for promoting the performing arts. Click here for my portfolio of theatre criticism.
---
tech Wire Asia
I was a staff writer with Tech Wire Asia in 2017, covering Southeast and East Asia's technology scene.
Freelance Journalism
---
Content & Copy
I work with a number of brands, companies and individuals to produce content and copy for websites, publications and collateral. For website and collateral copy, please contact me to discuss your project. For art gallery or artwork-related content, please click through to the Art page.
To see examples of technology-related branded content, please click on the icons below.
Copy-editing
I have copy-edited a number of book-length works, including memoirs, essays, essay collections and corporate copy. Please get in touch if you would like to see examples of copy-editing work I have done.
Art Writing
I have produced content for a number of art publications and galleries in Southeast Asia, including catalogue essays, criticism and guides. The following are selected works. Please reach out if you would like to see other pieces.
---
Memories by james seet (Sept 2019)
Catalogue essay written for James Seet's September 2019 solo show, Memories. Commissioned by Our Arts Projects.
Malaysia: Dulu, Kini Dan..." (Chang Fee Ming, Oct 2018)
An art essay written on Chang Fee Ming's *Malaysia, Dulu, Kini, dan..." exhibition at Art Expo Malaysia 2018. Commissioned by A+ Works of Art.
On Ilham Gallery and Maiiam Contemporary Art Museum "Patani Semasa" exhibition (July 2018, South China Morning Post)
"The contrasts of life in the Thai deep south is explored in depth throughout the exhibition. The soldiers policing the region are from other parts of Thailand, and have little ability to communicate with Malay-speaking locals."
Art Republik Singapore (2017-2018)
Between 2017 and 2018, I was a regular contributor to Art Republik Singapore, a quarterly magazine on Southeast Asian artists and artwork. Read a selection of my published works here.
Contact
If you would like to work together, please send me an email or reach out via Telegram, to discuss.